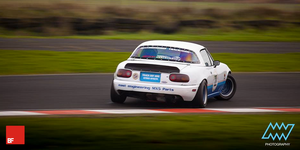 MODI-5 Cup is coming to town....
A new race series that puts the focus on driver ability that will be both fun and superb value. It is designed to put a grid of MX5s together to race at Kirkistown starting in the 2019 season. The vision is to start a competitive but well-mannered race series, in which all competitors will respect each other and each other's machinery. This will not be a contact sport as contact=damage=repairs=money. Opinion is that the MX5 is one of the best sports cars ever made, inexpensive, well designed and well engineered. As well as for serious enthusiasts, this series will also appeal to novices looking for excitement and fun. Competitors can participate in the following MX5 cars - Eunos/Miata/MX5 origin 1989 – 2005.

Racing in 2019?
Everything is pointing to the MODI-5-Cup being an exciting and expanding class in the 500MRCI race season. So if you're undecided about what you are going to race in 2019 then get in touch to discuss how we can help you get involved. The 'Competitor Information' page is written in a way that will help people wanting to start racing in this class along with information for people who already have a race licence.The strictly enforced regulations allow specific modifications along with detailed restrictions and are designed help to keep costs down making it one of the cheapest racing classes. The cars run with required safety modifications that are detailed in the Motorsport UK regulations. Additional modifications are allowed and these and other regulations are listed in the sporting and technical regulations issued by the 500MRCI and copies are available on this site.



At BrookFab, we have developed a 6 point weld in roll cage specifically for this championship.  Our cages are hand-built here in Northern Ireland using Proformance Metals ROPT510 tubing only, they are fully welded in and exceed the requirements laid out by Motorsport UK.
Available from BrookFab and East Engineering MX5 Parts only, cages come supplied with build sheets and certificates of conformity.

We also offer a range of services you may find useful if planning to compete in 2019, whether you want to lose a few kgs or wish to avail of our fabrication facilities and still remain within the rules, there are many ways we can assist you.
If you are looking more information regarding the championship or any of the many services we can offer it's competitors, please get in touch HERE
---